SCRI 2023 Program Dates: June 5th-July 28th, 2023
Application Deadline: January 20th, 2023
The Summer Cancer Research Institute (SCRI) is an 8-week intensive program for undergraduate and graduate students interested in pursuing biomedical, clinical and population-based cancer research. Students will be working with established mentors in these fields. The program will take place at the research facilities of Temple University and Fox Chase Cancer Center in Philadelphia, PA. Our goal is to provide hands-on research training and active mentorship to students pursuing a career in research.
Applications are reviewed by a panel of program staff with final decisions made in late February 2023.
SCRI is supported by the National Cancer Institute (NCI) U54 funding to Hunter College and Temple University, thus establishing the Synergistic Partnership for Enhancing Equity in Cancer Health (SPEECH).
Eligibility
Applicants must:
Students must be currently matriculated at Hunter College
Be in good academic standing
We encourage applications from students of all backgrounds, particularly those from underrepresented minority groups and/or disadvantaged backgrounds. Students must be currently enrolled at Hunter College or Temple University. 
Financial and Housing Information
Students will receive the following:
Hands on research training
Mentorship from established investigators
Participation in cancer seminars and skill-building workshops
A student's stipend of $3,000.
Travel coverage to and from Philadelphia for Hunter College students.
Housing for students who are unable to commute.
Students will benefit from:
Research training, participation in cancer seminars and skill-building workshops, written and oral science communication enhancement. 
Link to application to come. 
*Note: application will not be accessible until the application window opens on 11/1/22. A Google account is necessary to access the application.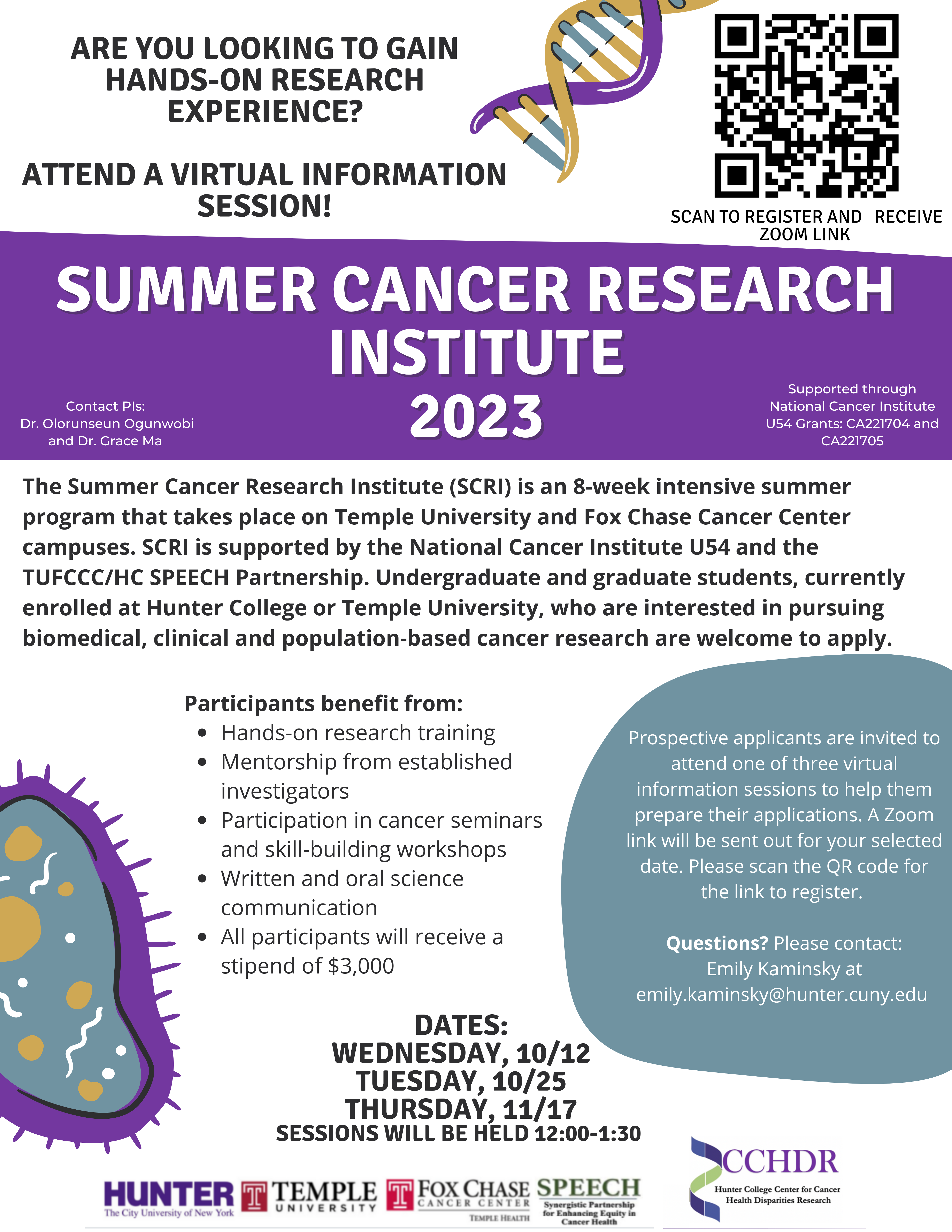 ---
Contact
If you have any questions, please do not hesitate to reach out to the Research Education Coordinator at Hunter College, Emily Kaminsky at [email protected]